Health Insurance Tips
Stay Healthy and Still Enjoy Your BBQ!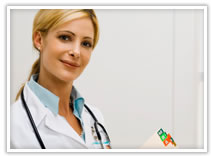 It's BBQ Season
It's BBQ season and you know what that means... big calories and large amounts of fat. We all love a cookout every now and then, but who would have known that our homemade BBQ's could be so unhealthy? Your typical BBQ meals of cheeseburgers, soda, chips, macaroni and cheese, sausage, or ribs can easily run you over 2,000 calories. That's the daily allowance of calories or more for most people in a single meal! Don't forget about the hundred or so grams of fat, throw in about 50 grams of saturated fat in there too. So what do you do if you want to enjoy your BBQ while staying relatively healthy? You might be surprised how easy it is to use these great alternatives.
How to Eat a Nutritious BBQ
They say the first step is always the hardest and its probably true here, but you can save yourself hundreds of calories and dozens of grams of saturated fat by going with turkey or veggie hamburgers. With all the ketchup and toppings, many don't even notice the change.
Hot dogs and pork or beef sausages are almost 70% fat, so swap them out for some poultry sausages. Believe it or not, these sausages will grill up and taste almost identically to their fatty counterparts. They also contain a great amount of protein with little fat.
Ribs and chicken wings are a favorite among BBQs; unfortunately they're also high in fat and calories. Your best bet is to steer clear of them completely and replace them with skinless breasts and fish.
Although they may seem like the innocent portion of your BBQ, many of typical side dishes are just as bad as the ribs and burgers. Replace that macaroni and cheese or potato salad with some grilled vegetables, such as peppers, portabella mushrooms, or peppers. They're easy to prepare too, just season your veggies up with some salt, black pepper, or Cajun powder and throw them on the grill!
Next Step