Get More Information About Coverage in Wisconsin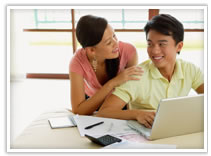 According to the most recent results of a study conducted by the United Health Foundation, Wisconsin is the 18th-healthiest state in the nation. The state's score takes a number of factors into account, such as exercising, smoking, and the rates of violent crime. Of course, a large part of how healthy a state is relates to how well its residents are insured. The state also does well when measured against this criterion. In fact, the Wisconsin Department of Health Services reports that 88 percent of residents carried medical coverage for all 12 months of 2009. Another five percent had coverage for part of the year, while six percent had no coverage at any point in 2009. Those without plans were most likely to either be self-employed or employed part time. If you fall into either of those categories or need benefits for some other reason, this page is the place to find an affordable solution.
Finding the Best Coverage In Wisconsin
Buying a medical plan may seem like a daunting task at first, but in reality it is far less difficult than you think. Granted, trying to purchase through conventional methods can be overwhelming. For example, if you were to visit with local insurance agents in person to discuss pricing and policy options, you would likely have to spend days doing so, and even then there are no guarantees the information will help you. A much smarter way to shop is to use online resources. The Internet has all the information you would receive from an agent or broker on a plan and more. Companies have to compete directly for your business, empowering you to choose the provider with the most generous medical benefits and lowest premiums.
Compare Rates and Save Money
With so many options available on the Web, you may not know how to begin your search for a plan. To save yourself time and money, start looking for quotes right now on this site by entering the requested information into the field at the top of the page. Once we have just a few pieces of information about you, we will show you up to five free pricing estimates on whatever type of policy you need. We work with almost all major insurers in the area to deliver the best offers to our visitors. The estimates you will see are free, and your request does not put you under any obligation to buy unless you choose to do so. We give you multiple opportunities to customize the kind of plan you would like, which allows you to pick the benefits and features that will give you the best protection at the lowest rates. Don't settle for the one-size-fits-all estimates offered by other sites. See the best offers on the exact policy you want by requesting your free quotes today.
Next Step